Guitar guru in Eilat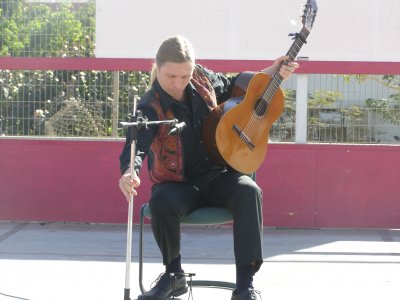 Guitar teacher Yak Santi lives in Eilat with his wife Sarah. All guitar lessons are private, meaning only one student at a time. The lessons are given at Collier's Community Center; Matnas Collier was the first community center established in Eilat.
Yak has been teaching the guitar for more than 20 years and styles that the students learn are many; classical guitar, rock, blues, folk, fingerstyle, jazz, flamenco and more. Playing with a good classical guitar technique is of great importance in Yak's lessons.  The students also learn note reading, improvisation, theory and everything else that is related to the guitar. The goal is to make  "complete" guitarists out of the serious students.
Please contact Yak at [email protected] if you have questions about guitar lessons. In Corona times the community center and Yak follows all the orders and restrictions from the government. The lessons are taking place after temperature check, hand washing, 2 meters distance and of course with masks on. Sounds hard? No, it's not. The lessons are only once a week, and the rest of the playing (songs, pieces, scales, improvisation...) is done at home; as always.
If a Covid 19 lock-down happens you will NOT lose your money. The community center pays back every shekel if you have paid in advance, or they will freeze your money so that you just can continue with the lessons after the lock-down. Have a fun and healthy guitar year!